Journal:

World Bank Research Observer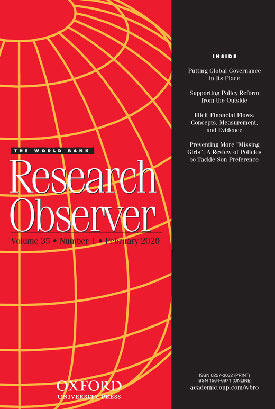 The World Bank Research Observer seeks to inform readers about research from both within and outside the World Bank, in areas of economics relevant for development policy. Requiring only a minimal background in economic analysis, its surveys and overviews of key issues in development economics research are intended for policymakers, project officers, professors and students of development economics and related disciplines, nonspecialists, and journalists keeping up to date.
Papers for the Observer are not sent out to referees, but all articles published are assessed and approved by the Editorial Board, which includes three to four distinguished economists from outside the Bank.
Published three times per year 1996 to Present
Editor: Peter Lanjouw
All Issues
2020s

2010s

2000s

1990s

1980s
Search Results
Now showing
1 - 10 of 193