Publication: Deposit Insurance as Private Club : Is Germany a Model?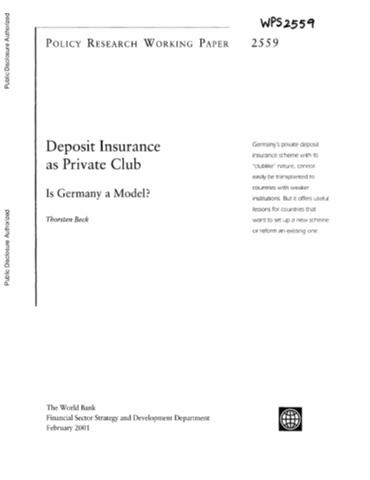 Author(s)
Abstract
The author describes, and evaluates the deposit insurance scheme set-up by private commercial banks in Germany in 1975. The scheme's funding, and management are completely private, with no pubic supervision. Where other schemes rely on monitoring by depositors to decrease moral hazard problems, the German scheme relies on peer monitoring by its member banks. The system has weathered several small bank crises, but has not yet been exposed to a major bank failure, or a systemic crisis. To what extent can it serve as a model for other countries? The success of the German scheme has to be judged against an institutional environment that fosters contract enforcement, and the rule of law, and discourages corruption. In a country with weaker institutions, the voluntary membership might quickly lead to adverse selection, with strong banks leaving the scheme. The high coverage limit might induce bank managers, and owners to abuse the scheme. Banks might intentionally under-fund the scheme, counting on additional government resources in times of crisis. And the secrecy of funds might decrease fund managers' accountability in societies with little transparency, and much corruption. In Germany's highly concentrated commercial banking sector, the small number of banks facilitates a club atmosphere, and quick resolution of banking crises. But it could also prevent the entry of new, innovative market participants, so that the club becomes a cartel. Germany's anti-bankruptcy bias might help prevent moral hazard, but can also stifle entrepreneurship. There is a tradeoff between the efficiency gain of a privately run deposit insurance scheme, and its potentially negative impact on competition, and entrepreneurship. Although the scheme cannot easily be transplanted to developing countries, it offers lessons for other economies. Schemes with a club-like character, reinforce peer monitoring, and minimize the risk of free riding. Risk-based premiums, based on auditing by the deposit insurance scheme, create a healthy link between the protection an insurance offers, and the moral hazard it aims to prevent. One compromise might be a combination of ex-ante funding, that guarantees credibility, with depositors, and ex-post bank funding, that gives banks an incentive to monitor one another to minimize costs.
Citation
"
Beck, Thorsten
.
2001
.
Deposit Insurance as Private Club : Is Germany a Model?
.
Policy Research Working Paper;No. 2559
.
©
World Bank, Washington, DC
.
http://hdl.handle.net/10986/19705
License:
CC BY 3.0 IGO
.
"
Other publications in this report series
Collections