Journal:

World Bank Economic Review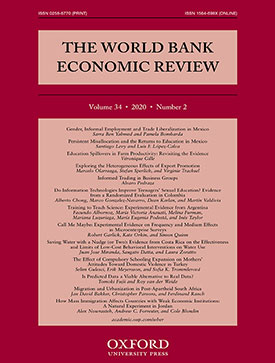 Publisher
Oxford University Press for the World Bank
The World Bank Economic Review publishes and disseminates innovative theoretical and empirical research that identifies, analyzes, measures, and evaluates the macro and micro-economic forces that promote or impede economic development. It aims to provide the knowledge necessary for designing, implementing, and sustaining effective development policies in low and middle income countries.
The World Bank Economic Review is aimed at readers familiar with economic theory and analysis but not necessarily proficient in advanced mathematical or econometric techniques. Material comes from work conducted by World Bank staff and consultants, as well as outside researchers.
Articles are reviewed by three referees, one from the World Bank and two from outside the institution.
Published three times per year 1996 to Present
Editors: Eric Edmonds, Nina Pavcnik
All Issues
2020s

2010s

2000s

1990s

1980s
Search Results
Now showing
1 - 10 of 461