Publication: More Favorable and Differential Treatment of Developing Countries : Toward a New Approach in the World Trade Organization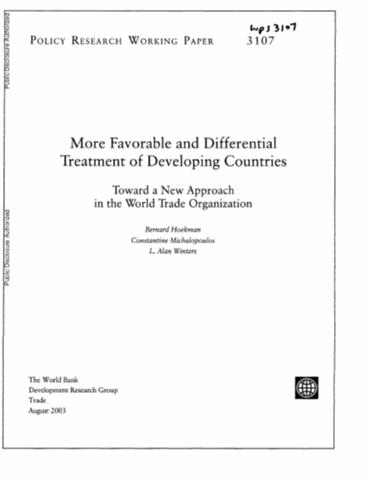 Author(s)
Michalopoulos, Constantine
Abstract
The authors discuss options that could be considered in the World Trade Organization (WTO) to provide more favorable treatment-so-called special and differential treatment (SDT)-to small and low-income countries. They argue that there is a need both for differentiation across WTO members and for steps that would benefit all developing countries. The authors suggest the following to make the Doha Round more supportive of development: 1) A binding commitment by industrial countries to abolish export subsidies and nontariff barriers (tariff quotas) and to reduce most-favored-nation tariffs on labor-intensive products of export interest to developing countries to no more than 5 percent in 2010, and to no more than 10 percent for agricultural products. All tariffs on manufactures should go to zero by 2015, the target date for the achievement of the Millennium Development Goals. Liberalization should also be undertaken by developing countries on the basis of a formula approach. 2) A binding commitment by industrial countries on services to expand temporary access for service providers by a specific amount-for example, equal to an additional 1 percent of the workforce-and not to restrict cross-border trade (for example, by telecom channels). 3) Unilateral action by all industrial countries to extend preferential market access for less developed countries, and to simplify eligibility criteria, especially rules of origin. 4) Affirmation by the WTO that core disciplines relating to the use of trade policy apply equally to all WTO members. 5) Acceptance of the principle that for small and low-income countries "one size does not fit all" when it comes to domestic regulation and to WTO agreements requiring substantial investment of resources. 6) Recognition that some WTO agreements need to be adapted to make them more supportive of development, and a consequent willingness by industrial countries to modify them. 7) Expansion of development assistance to bolster trade capacity in poor countries and strengthening of the links between trade-related technical assistance and the mechanisms through which aid priorities are determined in developing countries. In practice, calls for specific types of SDT often appear to be motivated by a perception that a certain WTO rule is "anti-development" and that therefore developing countries should be exempted from the rule in question. The authors suggest that the appropriate solution to such problems is to change the rules rather than seek an opt-out. What should be up front changes in rules and what should be part of the negotiating agenda is a major issue which needs to be addressed at the Cancun Ministerial meeting. The suggestion that SDT should focus primarily on WTO rules and be limited to those countries that need it most-very small and poor economies-implies that criteria should be adopted to differentiate between countries. Leaving this to self-declaration-the current approach-is not feasible, while reliance on case-by-case, agreement-specific negotiation can generate excessive costs, discretion, and associated uncertainty. While the authors' preference is for a simple rule-of-thumb approach to determine eligibility, this is an issue that requires much more thought and discussion. They suggest that WTO members establish a high-level group to consider criteria that could be used for differentiation purposes and to determine the set of agreements to which differentiation will apply.
Citation
"
Hoekman, Bernard

;
Michalopoulos, Constantine

;
Winters, L. Alan
.
2003
.
More Favorable and Differential Treatment of Developing Countries : Toward a New Approach in the World Trade Organization
.
Policy Research Working Paper;No. 3107
.
©
World Bank, Washington, DC
.
http://hdl.handle.net/10986/18139
License:
CC BY 3.0 IGO
.
"
Other publications in this report series
Collections