Person:


Lemiere, Christophe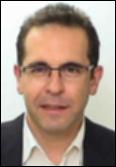 Fields of Specialization
Human resources for health

,
Health labor markets
Last updated
January 31, 2023
Biography
Christophe Lemiere is a senior health specialist for the World Bank and has worked about 10 years in developing countries, mostly in Sub-Saharan Africa. He holds an MS in Health Economics (Paris University) and an MBA (Harvard University). After several years as a hospital manager, Christophe worked as a consultant in more than 15 countries, focusing on issues related to health services management (including hospital reforms) and human resources issues, his two specific areas of expertise.
Publication Search Results