Sustainable Development Group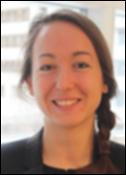 Fields of Specialization
Climate change economics

,
Infrastructure

,
Development economics
ORCID
External Links
Departments
Sustainable Development Group
Last updated
January 31, 2023
Biography
Julie Rozenberg is a Senior Economist with the Chief Economist of the World Bank Sustainable Development Group. Her work includes green growth and climate change mitigation strategies and climate change adaptation and disaster risk management. She is the author of many research articles and book chapters and led the World Bank report "Beyond the Gap". She also develops innovative methodologies to take long-term uncertainties into account in the economic analyses of projects, in sectors like transport, water or urban, to help World Bank clients deal with climate change constraints and other long-term uncertainties in the preparation of projects and strategies. Julie Rozenberg holds an engineering degree from Ecole Nationale Superieure de Techniques Avancees and a PhD in economics from Ecole des Hautes Etudes en Sciences Sociales in Paris.
Publication Search Results