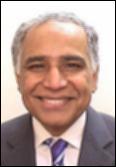 Fields of Specialization
Labor Economics

,
Social Safety Nets

,
Social Protection Systems

,
Institutions and Governance

,
Economics of Aging

,
Public Economics

,
Political Economy

,
Fiscal Policy
Last updated
February 1, 2023
Biography
Dr. Arup Banerji is the Regional Director for the European Union countries for the World Bank Group. Until January 2016, he was the Senior Director and Head of the Social Protection and Labor Global Practice at the World Bank Group, and concurrently the Senior Director for the Jobs Group, overseeing the World Bank's operations, strategy and knowledge work on employment and labor markets, social safety nets, and social insurance/pensions issues. He is a research fellow at the Institute for Labor Economics (IZA) in Bonn, Germany, and an invited member of three of the World Economic Forum's Global Agenda Councils—on Youth Unemployment, on Inclusive Growth and on India. He founded and has co-chaired the global Social Protection Inter-Agency Cooperation Board and is the founding chair of the Solutions for Youth Employment (S4YE.org) public-private global coalition. At the World Bank, he has worked on both country operations and research in Eastern Europe, Central Asia, Africa and the Middle East – on a variety of issues relating to fiscal reforms, employment and labor markets, skills building, social protection systems, social sector reforms, poverty reduction and analysis, institutional reform, public sector reform and governance, economic growth strategies and evaluation of programs. He is the author of a wide range of books and scholarly articles in these fields, including, most recently, Working through the Crisis on global and European labor market policy responses during the 2009-2011 crises. He also oversaw the World Bank's 2013 World Development Report (annual flagship research publication), which focused on Jobs. Prior to joining the World Bank, he taught at the Center for Development Economics at Williams College, Massachusetts, USA, where he was the Director of Graduate Studies, and at the University of Pennsylvania, USA. He holds a Ph.D. and a Master's degree in Economics from the University of Pennsylvania, USA, and a Bachelor's degree in Economics from the University of Delhi, India.