Person:


Lao Pena, Christine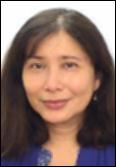 Fields of Specialization
Health and nutrition

,
Health finance

,
Intrahousehold allocation
Departments
Health, Nutrition and Population Global Practice
Last updated
January 31, 2023
Biography
Christine Lao Peña is a Senior Human Development Economist in the World Bank's Health, Nutrition and Population Global Practice. She has extensive operational experience in social sector projects (including a Learning and Innovation Loan that provided productive grants to poor rural women's self-health groups; Sector-wide Investment Programs in Health and Education, Multi-sectoral Projects including early childhood development, HIV-AIDS, and nutrition interventions; and Development Policy and Poverty Reduction Loans) in several countries in Africa, the Caribbean and Latin America. Her current work focuses on health financing and innovations in health service delivery including results-based management mechanisms, and multisectoral approaches to improving maternal and child nutrition and health, mainly in the Latin America and Caribbean Region. Before joining the World Bank, she was at the International Food Policy Research Institute where she worked on intra-household and nutrition and food security issues. She also worked in the University of the Philippines on a number of applied research topics including non-tariff barriers to trade in the local food and transportation. She has more than twenty years of applied research experience on a broad range of topics, with an emphasis on health, nutrition, early childhood development, gender and poverty. She has published book chapters, papers and journal articles on health program reviews; intra-household resource allocation; and gender, food security, and development. A Filipino national, she has a Ph. D. and M.A. in Economics from Boston University.