Person:


Sebastian, Ashwini
Agriculture and Food Global Practice
,
West and Central Africa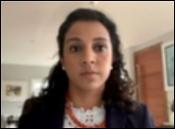 Fields of Specialization
Agriculture and Natural Resource Economics

,
Microeconomics

,
Poverty
Departments
Agriculture and Food Global Practice
West and Central Africa
Last updated
January 31, 2023
Biography
Ashwini Rekha Sebastian is a Senior Agricultural Economist at the World Bank currently based in Accra Ghana, where she works on the sustainable development agenda. She has previously work in the West Africa and Latin America regions. She joined the World Bank in 2016 as a Young Professional (YP). She holds a Ph.D. in Agricultural and Natural Resource Economics from the University of Maryland, College Park with a focus on agricultural, environmental, and development economics. Prior to joining the World Bank, Ashwini worked as an Economist at the United Nations Food and Agriculture Organization (UN-FAO), based in Rome. She has also previously worked with the International Food Policy Research Institute (IFPRI) in Washington DC.
Publication Search Results