Publication: Gender-inclusive Nutrition Activities in South Asia : Volume 2. Lessons from Global Experiences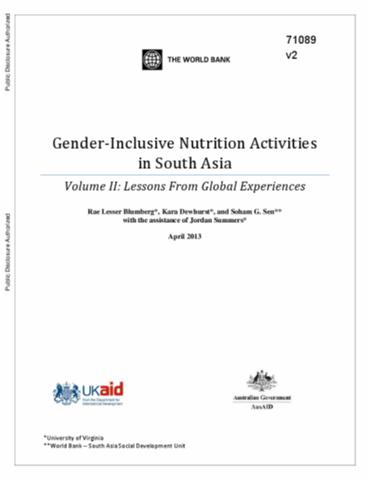 Abstract
This paper examines promising approaches from a wide array of literatures to improve gender-inclusive nutrition interventions in South Asia. It is the second of a series on gender and nutrition in South Asia. The first paper explored why gender matters for undernutrition in the region and conducted a mapping of regional nutrition initiatives to find that gender is too narrowly addressed in most programs if at all. Adequately addressing gender2 requires nutrition programs to focus not only on health services and information for the mother and her children, but also on her autonomy and the support she receives from her partner, other household members, and the broader community. This focus is especially important for adolescent mothers in the region, who have very low status. The present study drew from the conceptual framework of the previous paper and investigated four types of innovations in nutrition initiatives that address gender. These entail promoting: (1) women s household autonomy; (2) household support for the woman and her own and her children s nutrition; (3) community support for the woman and her own and her children s nutrition; and (4) help for adolescent girls. Though the ideal "gender-inclusive nutrition interventions" package (GINI for short) was never found, based on the findings of this review, it can be described. Indeed, it is quite consonant with this study s conceptual framework. The most effective programs would encompass the following "success factors": (a) ensure that the targeted women not only earn but control income (as in the HKI homestead garden projects in Bangladesh, Nepal and Cambodia); (b) get the powerful members of young married women s households - men and paternal grandmothers - on board by means of peer advocacy and community-oriented programs that (c) provide them with information on nutrition and women s child welfare-focused spending patterns, (d) as well as (small) incentives so they don t seize control of income or marketable food generated by those women. These programs also would (e) train forward-looking local women (including grandmothers) and men for volunteer roles (preferably with small incentives for sustainability). (f) They would provide BCC on nutrition and help increase support by community leaders, religious figures and members for young women s livelihoods as well as mother/child nutrition. (g) Finally, the ideal GINI would also target teen girls, offering them nutrition information, along with incentives to parents to keep them in school and programs for the girls to earn money. Positive examples encountered in the literature are presented below (along with some partial successes that need further refinement). If polished and scaled up, such programs could put a big dent in the "South Asian Enigma" and both the gender inequities and malnutrition that define it.
Citation
"
Lesser Blumberg, Rae

;
Dewhurst, Kara

;
Sen, Soham G.
.
2013
.
Gender-inclusive Nutrition Activities in South Asia : Volume 2. Lessons from Global Experiences
.
©
World Bank, Washington, DC
.
http://openknowledge.worldbank.org/handle/10986/15980
License:
CC BY 3.0 IGO
.
"
Other publications in this report series
Collections