Publication: Peru : Restoring the Multiple Pillars of Old Age Income Security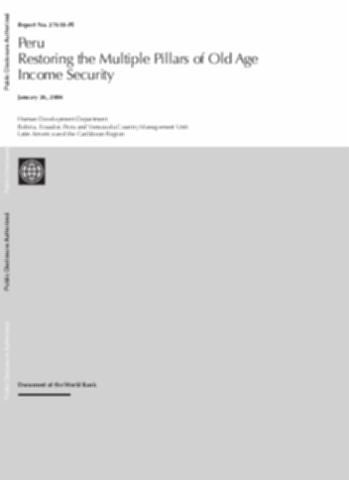 Abstract
In this report, the components of a national retirement security system are categorized - as "pillars", or as "tiers" according to their objective. This is in marked contrast to other publications that categorize the branches of a pension system in accordance with who administers them (the public or private sector); how are benefits structured (final-salary defined benefit formula, or defined contributions); or, their financing mechanism (pay-as-you-go, or full funding). Thus, the term "first pillar" or "pillar one" refers to that part of a pension system intended to keep elderly out of poverty; "second pillar" or "pillar two" to that part intended to help individuals smooth consumption over their life-cycle, i.e., to prevent a dramatic fall in income at retirement time; and, "third pillar" or "pillar three" to the instruments, and institutions available on a voluntary basis for workers to increase their income in old age. This report intends to explore, and present policy options to extend formal protection against old age poverty risks, at a fiscally sustainable cost, and aims as well at restoring the multiple pillars of formal old age income security. The report reviews the current pillars of Peru's retirement security system, grown weak, and by and large, has failed to diversify the risks to old-age income. The public branch of the "second pillar" still threatens the Government's fiscal stance, and constrains management of the economy. The private branch is costly, risky and administered by a private oligopoly. The "third pillar" of voluntary savings, and insurance instruments is weak, costly, lacks transparency and fails to complement benefits from the mandatory pillars. The report takes a comprehensive approach in its analysis of Peru's retirement security institutions, and, is divided into five sections. Following this introduction, Section II presents the dimensions of Peru's vulnerability to poverty in old age, by examining the nature of the risks to income from ageing in Peru. The section continues with a look at how well Government administered and/or mandated pension plans are covering these risks. Section III provides the institutional background, reviews reforms to formal social security institutions in the 1990's, and the progress achieved, and, examines the serious problems remaining. Section lV presents an analysis of proposals for reforms to each branch of the retirement security system, while Section V concludes by presenting policy options - some straight forward measures, while others, deeper, more controversial reforms - consistent with meeting the stated objective of extending protection against poverty in old age, in a fiscally, sustainable manner.
Citation
"
World Bank
.
2004
.
Peru : Restoring the Multiple Pillars of Old Age Income Security
.
©
Washington, DC
.
http://hdl.handle.net/10986/14681
License:
CC BY 3.0 IGO
.
"
Other publications in this report series
Collections