Publication: Jobs and Growth: Brazil's Productivity Agenda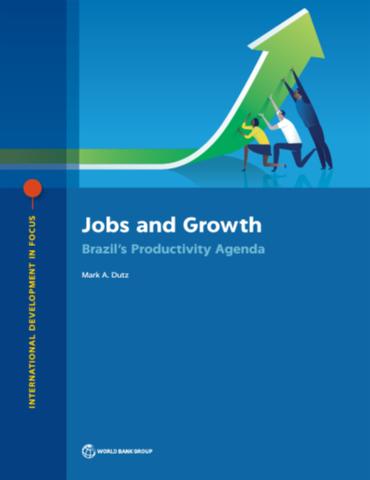 Author(s)
Abstract
Brazil approaches its 2018 election with an economy that is gradually recovering from the deepest recession in its recent economic history. However, for many Brazilians, the recovery has not yet translated into new and better jobs, or rising incomes. This book explores the drivers of future employment and income growth. Its key finding: Brazil needs to dramatically improve its performance across all industries in terms of productivity if the country is to provide better jobs for its citizens and generate lasting gains in incomes growth for all. This is particularly important as Brazil is aging rapidly and the boost the country has enjoyed thanks to its young and growing labor force in the past decades will disappear in just a few years' time. The book recommends a change in the relationship between the state and business, from rewarding privileged incumbents to fostering competition and innovation—together with supporting workers and firms to adjust to the demands of the market. The book is addressed to all scholars and students of Brazil's economy, especially those interested in why the country's economic performance has not kept up with earlier achievements since the reintroduction of democracy in the mid-1980s. Its conclusions are urgent and pertinent but also optimistic. With the right policy mix, Brazil could enter the third century of its independence in 2022 well on track to join the ranks of high income countries.

O Brasil se aproxima de sua eleição de 2018 com uma economia que se recupera gradualmente da mais profunda recessão em sua história econômica recente. No entanto, para muitos brasileiros, essa recuperação ainda não se materializou em mais e melhores empregos ou rendimentos mais elevados. Este livro explora os fatores que impulsionarão o crescimento do emprego e da renda no futuro. Sua principal conclusão: o Brasil precisa melhorar drasticamente o seu desempenho em todos os setores em termos de produtividade, para que o país ofereça empregos melhores para os seus cidadãos e aumente a renda de forma duradoura. Essa questão ganha ainda mais importância porque o Brasil é um país que está envelhecendo rapidamente, e o impulso de que o país desfrutou graças à sua força de trabalho jovem e crescente nas últimas três décadas irá desaparecer em alguns anos. O livro recomenda uma mudança na relação entre o Estado e as empresas, de forma a fomentar a concorrência e a inovação ao invés de distribuir privilégios a alguns empresários – além de dar apoio aos trabalhadores e às empresas para se ajustarem às demandas do mercado. O livro é dirigido a todos os estudiosos e estudantes da economia do Brasil, especialmente aqueles interessados em porquê o desempenho econômico do país não acompanhou as conquistas anteriores desde a reintrodução da democracia em meados dos anos 1980. Suas conclusões são urgentes e pertinentes, mas também otimistas. Com a combinação certa de políticas, o Brasil poderia entrar no terceiro século de sua independência, em 2022, a caminho de se transformar em um país de alta renda.
Citation
"
Dutz, Mark A.
.
2018
.
Jobs and Growth: Brazil's Productivity Agenda
.
International Development in Focus;
.
©
Washington, DC: World Bank
.
http://hdl.handle.net/10986/29808
License:
CC BY 3.0 IGO
.
"
Other publications in this report series