Publication: Garanti Bank Romania: Striving to Lead--A Study on Women in Banking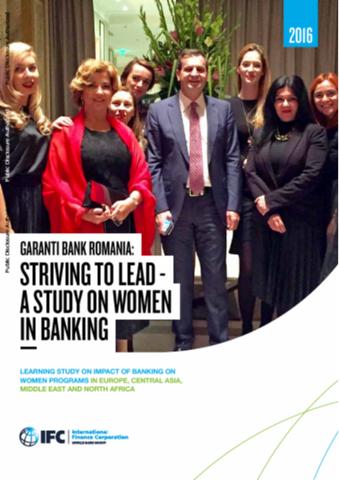 Author(s)
International Finance Corporation
Abstract
The overall objective of this study is to learn about the results of the International Finance Corporation (IFC) "Banking on Women Program" (BoW) in Europe, Central Asia and the Middle East (EMENA). Established in 2010, IFC's "Banking on Women Program" uses IFC's investment capital to help financial institutions around the world with SME lending track records to profitably expand their portfolios and provide women entrepreneurs with access to finance. IFC also works with financial institutions to deepen their ability to reach women owned businesses through segmenting their target market, positioning their brand and repositioningtheir products to reach women borrowers. As of 2016, IFC's BoW Program has a portfolio of over$1 billion, invested in 32 banks around the world for on-lending to women, and is working with 22banks globally to build up their capacity to bank women. IFC's "Banking on Women Program" in EMENA was launched in 2011. Since then, IFC has provided over 130 million dollars in finance to six banks foron-lending to women entrepreneurs: Garanti BankRomania, Fibabanka A.Ş. Turkey, AlternatifbankAS in Turkey , Şekerbank T.A.Ş in Turkey, Bankof Georgia, Transcapitalbank in the RussianFederation. IFC has delivered advisory services toan additional five banks to build up their capacityto serve women customers (BLC Bank in Lebanon,Bank al Etihad in Jordan, Bank Muscat in Oman,Habib Bank Ltd in Pakistan and Bank of Palestine).The EMENA program is active in nine countries. Garanti Bank Romania and BLC in Lebanon,both IFC client banks, were selected for study as individual cases. Each study looks at the existing capacity and performance of each of these banks interms of its service to women entrepreneurs in thelong-term in a commercially viable, self-sufficient manner that is based on the bank's own in-house resources and capacities. Where possible, each studyalso aims to understand if and how the women borrower segment has affected each bank's business (bottom line, sustainability and growth targets). A separate phase two of this study is being considered,wherein the impact of the program on the end beneficiaries, women-owned SMEs, will be assessed.This beneficiary survey will provide insights into how effectively the bank's women borrowers are reachedand served. Ultimately, this study aims to generate learning for IFC and its client banks in order to strengthen the design and delivery of the banks' BoW program, as well as IFC engagements in this area.
Citation
"
International Finance Corporation
.
2016
.
Garanti Bank Romania: Striving to Lead--A Study on Women in Banking
.
©
International Finance Corporation, Washington, DC
.
http://hdl.handle.net/10986/25379
License:
CC BY-NC-ND 3.0 IGO
.
"
Other publications in this report series
Collections