Publication: Russia Integrates: Deepening the Country's Integration in the Global Economy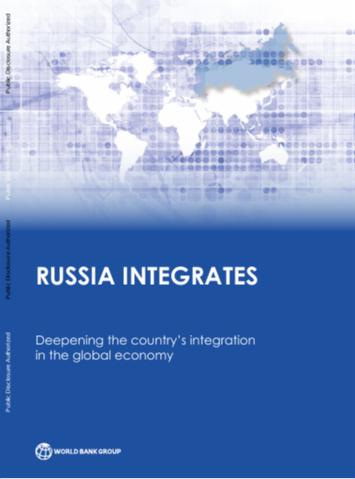 Abstract
Russia's early development successes resulted from undertaking ambitious structural reforms, a commodity cycle boom, and taking steps to promote greater economic openness, including becoming a member of the WTO in 2012. Between 2000 and 2012, Russia's gross domestic product (GDP) rose on average by 5.2 percent a year, slightly below the 5.8 percent average for all upper middle-income countries over the same period, but above the 2.9 percent average for the global economy as a whole. Per capita GDP in real terms grew by about 80 percent between 2000 and 2012 (from 14,615 US Dollars to 26,013 US Dollars in purchasing power parity (PPP), 2017 prices). Since 2003, Russia has been the sixth largest economy in the world in PPP terms, moving up from ninth position in 2000. A favorable external environment and strong macroeconomic fundamentals facilitated inclusive growth throughout the 2000s. Structural policies were also key drivers of growth, reflecting the impact of reforms and structural changes launched during this time. Breaking the 2000s decade into early and late periods reveals that structural policies were the key driver of growth in the early 2000s (2000 to 2005). With better terms of trade, the contribution of the external environment to growth improved significantly from 2005 to 2010. Prudent macroeconomic management and booming oil revenues facilitated fiscal surpluses, a reduction in external debt, and a rise in reserves. This helped Russia to respond with strong countercyclical policies to the recession during the 2008–09 Global Financial Crisis, limiting its impact on the economy. Meanwhile, potential growth estimates for Russia show that it peaked before the Global Financial Crisis and has since continued to decline. The estimated potential growth rate — the rate at which the economy can grow when labor and capital are fully employed — was 3.8 percent in 2000–09 and 1.7 percent in 2010–17.2 This deceleration was due to a slowdown of productivity growth and a shrinking potential labor force, rather than a shortfall in capital accumulation. In 2014, the economy suffered from adverse oil price shocks and the imposition of economic sanctions, which led to Russia becoming more insular and less integrated globally. One manifestation of this has been reduced foreign direct investment (FDI) inflows since 2014. Although economic activity in Russia has continued to recover from the 2015-16 recession, potential growth has continued to decline. A weakness in potential growth is not specific to Russia. Potential growth has been adversely affected in both advanced economies, where it was evident even before the Global Financial Crisis, and emerging markets and developing economies, especially since 2010-12. However, a faster-than-average decline in Russia's potential growth has raised concerns about its medium-term prospects and the risks of stalled convergence in GDP per capita with advanced economy levels.
Citation
"
World Bank
.
2020
.
Russia Integrates: Deepening the Country's Integration in the Global Economy
.
©
World Bank, Washington, DC
.
http://hdl.handle.net/10986/34994
License:
CC BY 3.0 IGO
.
"
Other publications in this report series
Collections