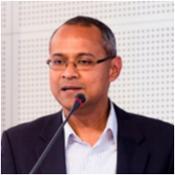 Fields of Specialization
Welfare economics

,
Labor economics

,
Inequality

,
Poverty and social impact

,
Impact evaluation and economic shocks

,
Policy and program evaluation
ORCID
External Links
Departments
Poverty and Equity Global Practice of the World Bank
Last updated
August 29, 2023
Biography
Ambar Narayan, a Lead Economist in the Poverty and Equity Global Practice of the World Bank, leads and advises teams conducting policy analysis and research in development from a microeconomic perspective. Topics that he works on include inequality of opportunity, economic mobility, policy evaluation, economic transformation, country diagnostics, and impacts of economic shocks on households. Currently, he provides leadership to teams engaged in analyzing the distributional impacts of markets, institutions and private sector participation, and the inequality implications of COVID-19 for developing countries. Ambar has been a lead author for several large World Bank studies, including a recent global report on intergenerational mobility titled "Fair Progress?" as well as reports on inequality of opportunity, poverty, and the impacts of financial crisis in developing countries. In the past, he has worked in the South Asia region of the World Bank on knowledge and lending programs. He has authored a number of scholarly publications and working papers, which reflect the eclectic mix of topics he has worked on over the years. He holds a PhD in Economics from Brown University in the United States.