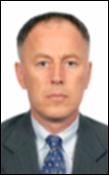 Fields of Specialization
Decentralization

,
Local government finance

,
Local economic development

,
Municipal finance

,
Fiscal federalism

,
Public finance
ORCID
External Links
Departments
Global Practice on Governance, The World Bank
Last updated
January 31, 2023
Biography
Dr. Serdar Yilmaz is a local economic development specialist with expertise in public finance, regional development and local government finance with extensive experience in developing and transition countries around the world. Working in the various departments of the World Bank, Dr. Yilmaz has contributed to policy reforms in over fifteen developing and transition countries around the world, including Bosnia, Bulgaria, Burkina Faso, Egypt, Ethiopia, Republic of Georgia, Ghana, Iran, Jordan, Kyrgyz Republic, Tanzania, Turkey and Yemen. Dr. Yilmaz has authored and contributed to numerous books, book chapters, articles, and reports on intergovernmental finance (fiscal decentralization), public expenditure management, and poverty reduction. In addition to his academic research and expertise in the management and provision of technical assistance, Dr. Yilmaz has considerable experience in the development and delivery of academic courses and professional training programs in the areas of economic development, municipal finance and fiscal federalism.