Development Research Group, World Bank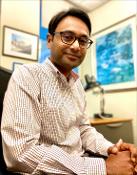 Fields of Specialization
Economic Growth

,
Structural Transformation

,
Productivity
ORCID
External Links
Departments
Development Research Group, World Bank
Last updated
February 1, 2023
Biography
Rishabh Sinha is an Economist with the Macroeconomics and Growth Team of the World Bank's Development Research Group. His interests lie in understanding the role of allocative efficiency and productivity in delivering economic growth. He has studied this relationship in diverse settings, which include issues involving structural transformation, occupational choice, financial development, intergenerational mobility, and fragile and violent economies.
Publication Search Results