Macroeconomics, Trade & Investment Global Practice, World Bank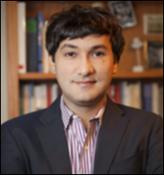 Fields of Specialization
Forced displacement

,
International trade policy

,
Demographic transitions

,
Economics of conflict
ORCID
Departments
Macroeconomics, Trade & Investment Global Practice, World Bank
Last updated
January 31, 2023
Biography
Harun Onder is a Senior Economist at the World Bank. His work focuses on the economics of conflict and forced displacement, international trade policy, economic implications of demographic transitions, and challenges faced by natural resource-rich economies. He has provided analysis, training, and technical assistance to many governments in Africa, Europe, Latin America and the Middle East. Harun was the lead author of World Bank flagship reports "The Mobility Displaced Syrians", "The Toll of War", and "The Economics of Hosting Refugees". His technical work has been published in leading academic journals including the Journal of International Economics and the Journal of Development Economics, and his contributions have been widely featured in media outlets including BBC, CNN, NPR, The Financial Times, The New York Times, and The Wall Street Journal, among others. Harun received Executive Education in development policy at Harvard Kennedy School of Government, and he holds a Ph.D. degree in Economics from Florida International University.
Publication Search Results