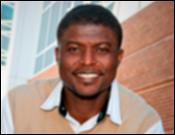 Fields of Specialization
International macroeconomics

,
Monetary economics

,
Development economics
ORCID
External Links
Last updated
January 31, 2023
Biography
Emmanuel K. K. Lartey is a professor of economics at California State University, Fullerton. He has also worked as an economist in the Office of the Chief Economist for the Africa Region at the World Bank. His research focuses on policy-relevant issues in international macroeconomics in the context of developing economies and covers manufacturing productivity and global value chains. He holds a PhD in economics from Boston College and possesses an extensive publication record.
Publication Search Results