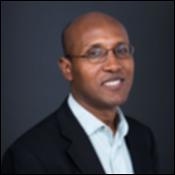 Fields of Specialization
Poverty

,
Inequality

,
Economics of education

,
Development economics

,
Labor economics
Departments
Chief Economist, Africa, World Bank
Last updated
January 31, 2023
Biography
Andrew Dabalen is the World Bank's Africa Region Chief Economist since July 1, 2022. The Chief Economist is responsible for providing guidance on strategic priorities and the technical quality of economic analysis in the region, as well as for developing major regional economic studies, among other roles. He has held various positions including Senior Economist in the World Bank's Europe and Central Asia Region, Lead Economist and Practice Manager for Poverty and Equity in Africa and most recently, Practice Manager for Poverty and Equity in the South Asia Region. His research and scholarly publications focused on poverty and social impact analysis, inequality of opportunity, program evaluation, risk and vulnerability, labor markets, and conflict and welfare outcomes. He has co-authored regional reports on equality of opportunity for children in Africa, vulnerability and resilience in the Sahel, and poverty in a rising Africa. He holds a master's degree in International Development from University of California - Davis, and a PhD in Agricultural and Resource Economics from University of California - Berkeley.