Person:


Zeufack, Albert G.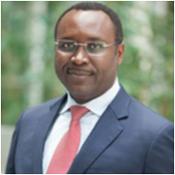 Fields of Specialization
Micro-foundations of macroeconomics
External Links
Departments
Office of the Chief Economist for Africa Region
Last updated
April 3, 2023
Biography
Albert G. Zeufack is the World Bank Country Director for Angola, Burundi, the Democratic Republic of Congo, and Sao Tome and Principe. Prior to this assignment, from 2016 to 2022, Dr. Zeufack held the position of Chief Economist for the World Bank's Africa region. A Cameroonian national, Dr. Zeufack joined the World Bank in 1997 as a Young Professional and started his career as a research economist in the macroeconomics division of the research department. Since then, he has held several positions in the World Bank's Africa, East Asia and Pacific, and Europe and Central Asia regions. Between 2008 and 2012, when on leave from the World Bank, he served as Director of Research and Investment Strategy/Chief Economist for Khazanah Nasional Berhad, a Malaysian Sovereign Wealth Fund. He previously worked as Director of Research at the Natural Resource Governance Institute, and before that he co-founded the Natural Resource Charter.