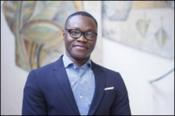 Fields of Specialization
Structural transformation

,
International trade

,
Global value chains

,
Development Economics
ORCID
External Links
Last updated
January 31, 2023
Biography
Solomon Owusu is a research economist at the German Development Institute (DIE) in Bonn, Germany, and also serves as a coordinator of the Complexity Economics Working Group of the Young Scholars' Initiative, Institute for New Economic Thinking (INET, New York). He is also a former World Bank Africa fellow. Solomon has experience in economic research, teaching, and policy from working with and working on projects for reputable organizations such as the World Bank (Washington, DC), United Nations Industrial Development Organization (UNIDO, Vienna), European Commission (EU-JRC, Belgium), Asian Development Bank, United Nations University–MERIT (the Netherlands), and Ghana Statistical Service. He is currently finalizing his PhD in economics at the Maastricht University in the Netherlands. Solomon's research focuses broadly on development economics in areas such as the measurement and analysis of structural transformation, jobs and inclusive growth, global and regional value chains, international trade, and issues at the intersection of technology and productivity in developing countries with particular focus on countries in Africa. Solomon's research has been published in peer-reviewed journals such as the World Economy and Journal of Economic Behavior & Organization.