Person:


Nagle, Peter Stephen Oliver
Prospects Group, The World Bank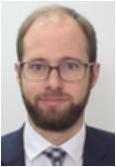 Fields of Specialization
International macroeconomics

,
International finance

,
International debt
External Links
Departments
Prospects Group, The World Bank
Last updated
January 31, 2023
Biography
Peter Nagle is a Senior Economist in the World Bank Group's Prospects Group. His research interests cover debt, financial crises, and commodity markets. Previously, he worked at the Institute of International Finance and the International Directorate at the Bank of England.
Publication Search Results