Water Global Practice of the World Bank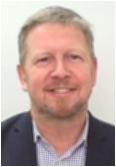 Fields of Specialization
WATER RESOURCES

,
DAMS AND DEVELOPMENT

,
TRANSBOUNDARY WATERWAY GOVERNANCE
Departments
Water Global Practice of the World Bank
Last updated
January 31, 2023
Biography
Dr. Marcus Wishart is a Lead Water Resource Specialist with the World Bank Group. He has over 25 years of experience working in more than 20 countries across Asia and the Pacific, Africa, Latin America and the Caribbean. Marcus co-leads the World Bank's global program on enhancing the safety and resilience of dams and downstream communities and specializes in innovative solutions to complex problems relating to the development of large hydraulic infrastructure and risk informed approaches to decision making under uncertainty. He has led a number of diverse, multi-disciplinary teams through complex infrastructure projects and advises on institutional and policy issues relating to the management and sustainable development of water resources. Marcus holds a PhD from Griffith University in Australia, an MSc from the University of Cape Town in South Africa and a BSc with Honours from the University of Adelaide, and has published over 100 academic papers, books and reports on a range of infrastructure and water related topics.
Publication Search Results