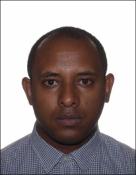 Fields of Specialization
International economics

,
Industrial organization

,
Development economics
ORCID
External Links
Departments
Office of the Chief Economist for Africa Region
Last updated
January 31, 2023
Biography
Kaleb Girma Abreha is an economist in the Office of the Chief Economist for the Africa Region at the World Bank. He was also a World Bank Africa fellow. Before joining the World Bank, he was a postdoctoral research fellow at the Department of Economics and Business Economics and Department of Management, Aarhus University (Denmark). In addition to research, he lectured and assisted several undergraduate and graduate courses in economics, international business, and strategic management at universities in Denmark and Ethiopia. He has a PhD in economics from Aarhus University (Denmark), an MSc in agricultural economics from the University of Copenhagen (Denmark), and a BA in economics from Addis Ababa University (Ethiopia). Kaleb's research focuses on industrialization, international trade and investment, global value chains, productivity, exchange rates, and CEOs and firm performance. His research has been published in peer-reviewed journals such as the World Bank Economic Review and the World Economy.