Person:


Woolcock, Michael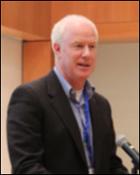 Fields of Specialization
Social development

,
Research methods

,
Institutions

,
Poverty

,
Community Driven Development

,
Governance

,
Conflict
ORCID
External Links
Departments
Development Research Group
Last updated
June 24, 2023
Biography
Michael Woolcock is the lead social scientist in the Development Research Group at the World Bank, where he has worked since 1998. For 14 of these years he has also taught (part-time) at Harvard Kennedy School, with periods of leave spent at the University of Cambridge (2002) and the University of Manchester (2007–09). In 2015-17 he also helped establish the World Bank's first Knowledge and Research Hub, in Kuala Lumpur. His current research focuses on strategies for enhancing the effectiveness of policy implementation, extending work addressed in his recent book, Building State Capability: Evidence, Analysis, Action (with Matt Andrews and Lant Pritchett; Oxford University Press, 2017). Michael is a co-recipient of the American Sociological Association's awards for best book (2012) and best article (2014) on economic development.