Person:


Lall, Somik Vinay
Equitable Growth, Finance, and Institutions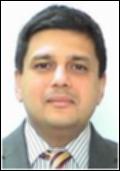 Fields of Specialization
Urban economics

,
Public finance

,
Regional development

,
Infrastructure economics

,
Spatial analysis

,
Territorial development
ORCID
Departments
Equitable Growth, Finance, and Institutions
Last updated
February 1, 2023
Biography
Somik V. Lall is the World Bank's global lead on territorial development solutions and a lead economist for urban development in its Global Practice for Urban, Resilience and Land. Mr. Lall joined the World Bank in 1999 and today is a recognized expert on job creation and productivity in cities, development of lagging areas, and enhancing economic outcomes with transport connectivity and advises national and sub-national governments on key policy issues. Somik has led the World Bank's global research program on urbanization and spatial development and previously founded the Urbanization Reviews program. He leads a Global Solutions Group that focuses on developing spatially coordinated multi-sector investments to support development of specific areas.
Publication Search Results