Person:


Acosta, Pablo Ariel
Global Practice on Social Protection and Jobs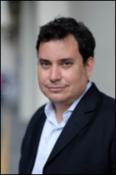 Fields of Specialization
Labor economics

,
Migration

,
Skills and workforce development

,
International trade

,
Social protection and labor

,
Social protection and growth
ORCID
External Links
Departments
Global Practice on Social Protection and Jobs
Last updated
January 31, 2023
Biography
Pablo A. Acosta, an Argentinean national, graduated from his Ph.D. in Economics at the University of Illinois at Urbana-Champaign in 2006 and joined the World Bank in 2008 where he works as a Senior Economist in the Social Protection and Jobs Global Practice. Prior to his position at the World Bank, he worked at the CAF Latin American Development Bank, at the Ministry of Economy in Argentina, and the Foundation for Latin American Economic Research (FIEL). His main areas of work and research are social protection, labor economics, migration, skills, and wage inequality.
Publication Search Results