Person:


Sánchez-Triana, Ernesto
Global Practice on Environment and Natural Resources, The World Bank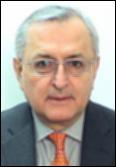 Fields of Specialization
environmental economics

,
environmental policy

,
air quality

,
green growth

,
poverty assessment
External Links
Departments
Global Practice on Environment and Natural Resources, The World Bank
Last updated
January 31, 2023
Biography
Ernesto Sánchez-Triana is Global Lead for Environmental Health and Pollution Management for the World Bank. He has worked on projects in Afghanistan, Argentina, Bangladesh, Brazil, Bhutan, India, Mexico, Pakistan and Peru. Prior to joining the Bank in 2002, he worked for the Inter-American Development Bank and served as Director of Environmental Policy at Colombia's National Department of Planning. He has lead numerous operations including analytical work on Climate Change and Environmental Priorities in Yucatan, Mexico, which served as the basis for this book. Dr. Sánchez-Triana holds two MS and one PhD degrees from Stanford University and has authored numerous publications on environmental economics, environmental policy, organizational learning, poverty assessment, and green growth.
Publication Search Results