Trade and Competitiveness Global Practice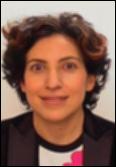 Fields of Specialization
international economics

,
trade regulations

,
regional integration

,
trade policy

,
non-tariff measures

,
diaspora

,
North Africa

,
Bangladesh
Departments
Trade and Competitiveness Global Practice
Last updated
January 31, 2023
Biography
Mariem Mezghenni Malouche is a Senior Economist at the World Bank in Washington, DC. Her professional areas of interest include trade and competitiveness, economic integration, trade policy, non-tariff measures, export diversification, trade finance, and diaspora. She joined the World Bank in 2004 as an economist in the MENA region then in the World Bank International Trade Department. Before joining the Bank, Malouche earned a PhD in international economics from Université Paris-Dauphine, France, and a master degree in business from University of Tunis III with the highest honors. She is a co-author of Streamlining Non-Tariff Measures: a Toolkit for Policy Makers (World Bank 2012); co-editor of Non-Tariff Measures - A Fresh Look at Trade Policy's New Frontier; and co-editor of Trade Finance during the Great Trade Collapse (World Bank 2011). She also participated in and contributed to a number of country level policy dialogue, development policy loans and reports in MENA, South Asia and Africa Regions, notably in Morocco, Libya, Tunisia, Bangladesh, Kazakhstan, Mauritius, and Lao DPR.
Publication Search Results