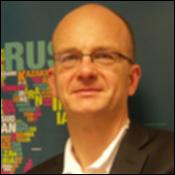 Fields of Specialization
Poverty

,
Labor Economics

,
Jobs

,
Mixed Method Approaches

,
Urban Poverty

,
Equity
Departments
Latin America & Caribbean
Last updated
February 1, 2023
Biography
Jesko Hentschel is the World Bank Director for Argentina, Paraguay and Uruguay, based in Buenos Aires. Hentschel is works for the World Bank since 1992. Throughout his 20 year career, Hentschel has specialized in poverty reduction and human development issues as well as public finance and has experience in several regions including Africa, Europe and Central Asia, South Asia and Latin America. In 2013, Hentschel was one of the principal authors of the World Development Report 2013 that focused on jobs. Before joining the Southern Cone, he served as Sector Director for Human Development in South Asia. Hentschel is an economist and a PhD in International Trade, Development and Econometrics from the University of Konstanz (Germany). He also has a Master in Science Policy and Planning in Developing Countries from the London School of Economics (UK) and a Masters in Agricultural Economics from the University of Wisconsin-Madison (USA). Hentschel is a German national, has lived in Argentina, Turkey and Madagascar, and speaks English, Spanish, French and German.